Home
---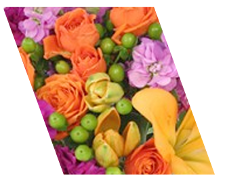 Custom Flower Design
Let us create a custom flower arrangement for you.
Order within 39 minutes for Same Day Delivery!
Buy Now
Redlands Florist
Redlands Flower Shop
How To Order Flowers Online
Ordering online flowers for all occasions has never been easier. Simply click the 'buy now' button, and follow the prompt until your purchase is processed. Or you can simply call and place an order. Elegant. Classic. Quality. These are three things about us at Redlands Bouquet Florist. We're flower experts, serving the redlandsCounty Area. We spend our days creating beautiful arrangements that you're sure to love and enjoy. We offer a wonderful variety of fresh cut flowers for, birthday flowers, anniversary flowers, wedding flowers, funeral flowers, sympathy flowers, corporate events' flowers, Valentine's day flowers, prom flowers, just because flowers, hat boxes, and more! We even offer gorgeous customized arrangements, gift baskets, Gourmet snacks, accessories, stuffed animals, balloons and balloon bouquets, cookies, and specialty products.Our clients have the chance to select from a large assortment of options that are suitable for every occasion.
About Redlands Bouquet Florist
Redlands, CA is a historic, antique city within the Inland Empire. Since opening our flower shop located at 702 W Coltona Ave Redlands, CA 92373 our family owned business has built life-long friendships with some of the best people in California.
Finding a great florist is more than just buying flowers at a moment's whim, as you would do at large retailers. Finding a florist should be personal, like getting a haircut. Florists are there to educate you of the do's and don'ts of purchasing flowers. Our job is to help your loved one marvel at the excitement of receiving a beautiful arrangement. Our delivery driver notes when many young women receive flowers, they often say, "I've never received flowers before!" The entire workspace around them is in awe and they are the center of attention. A job well done from the sender!
We here at Redlands Bouquet Florist have the ability to build a relationship with our customers. No matter the occasion, communication is key to getting what you want. If you want specific flowers or colors, we can accommodate those needs. If you want something simple, contemporary, or fanciful, we can accommodate those needs. Our customers come back year after year, no matter the occasion. And we believe it is because we take the time to build a relationship. Large retailers are unable to do so, and in return, the floral arrangements don't seems as personal or special as they may have used to be.
When you shop online flowers with the Redlands Bouquet Florist, you are shopping with the best in the industry. We have created thousands of arrangements over the past 10 years and lead the market with 100% positive reviews and customer service.
Let's take a look at some of the Flower shop services we provide in Redlands, CA.
We Are A Premier Florist in Redlands
Contact us for the perfect flower arrangements in Redlands, CA. In need of a beautiful bouquet for a loved one? Look no further and contact Redlands Bouquet Florist today to place your order now. We specialize in wedding arrangements, happy birthday flowers, anniversary gifts, get well soon flowers and much more. On top of that, we offer same day floral delivery and have a nationwide network to ensure your order is placed on time, any day out of the week.
As a top florist in Redlands, we hold ourselves to a higher standard of customer service and customer satisfaction. Every bouquet that is ordered from the Redlands Bouquet Florist is handcrafted by our highly trained professional staff, beautifully laced to perfection, ready to be delivered at your convenience or available to you for pick up if need be.
Click the map below for directions to our location on Google Maps!
Same Day Flower Delivery in Redlands, CA
While many flower shops only provide delivery within 48 hours, our shop is staffed with experienced florists' that know how to get the job done in half the time without ever cutting quality. During the seasonal holidays, we become quite busy. So, if you are considering sending flowers to your significant other, friends, or relatives - you should always remember to give Redlands Bouquet Florist some time to make your order. You should place an order at least a day before the delivery or pick-up date.
We Are The Top Rated Redlands Flower Shop in California
Our team of skilled florists are ready to assist you with creating your beautiful arrangement today. You can fully customize your order or choose from the list of bouquets that are listed above. Our satisfied customers have rated us 5 stars throughout Google, Yelp and The Knot. Give us a call and get started today.
Our Additional Locations
Phone Number: (909)884-7177
Address: 1991 Diners Court, San Bernardino, CA 92408
Phone Number: (951) 781-9338
Address: 6732 Magnolia Ave Riverside, CA 92506
Affordable Flower Arrangements
Look no further while in search for that perfect arrangement. Our experienced staff can create a beautiful 100% customized flower arrangement at an affordable price. With arrangements as low as $35.99 - don't wait, call now! We are your number one choice for affordable flowers in Redlands, CA.
Click the video below to view our youtube channel
Our Flowers Are Always Fresh
We take pride in each and every hand-picked flower that is placed in your arrangement. Right before opening up shop we have a new shipment of flowers delivered to our doorstep….Fresh flowers delivered daily! We are your "go-to" Redlands Flower Shop if you want to shop with local professionals.
Weddings
Weddings may be a dream come true, but stressful before. We strive to relieve the burden with amazing customer service. We like to feel as personable as possible. You may text us or email us your wedding inspirations. If it makes your life easier, we do our best to accommodate! We have over 25+ years of floral experience ranging from classic, contemporary, vintage, romantic, modern, natural, and even gothic wedding styles! It's important to find a florist you can relate to as well as trust. We have open communication and can send you a wedding/event quote within 1-2 business days. See photos of our floral designs from our highly regarded wedding website!
Areas of Service
redlandsBouquet Florist is a same-day delivery flower shop that provides flower arrangements in the city of:
Yucaipa
Loma Linda
Mentone
Redlands
Rubidoux
Moreno Valley
Corona
Colton and surrounding areas.
Sponsor
We would like to thank our sponsor Black Magic Farms for supporting us in the community as we create better opportunities. The community is forever thankful for sponsoring 40 Dozens of Roses for schools, hospitals, and businesses in the Riverside County for Mother's Day and Valentine's Day to raise awareness of love and grace for the beauty of all relationships. Thank you from the bottom of our hearts. The community will forever remeber the special gifts donated with cheer.